"Even the thickest skin has its breaking point"

Survivor's Guilt is the first piece in an ongoing series titled Having Looked Both Ways, a collection of digital artworks that explore the depths of internal and external unrest. With this body of work, I set out to encapsulate the tumultuous state of being one often finds him-/her-/themself in when dealing with burden & despair. The wealth of emotions, or lack therof. The viscerality, the crudeness.

In other words, this is my rawest attempt at synthesizing, reflecting on, and coping with a year bellowing in obscurity.

✦
Featured in the global release of
Wailing Walls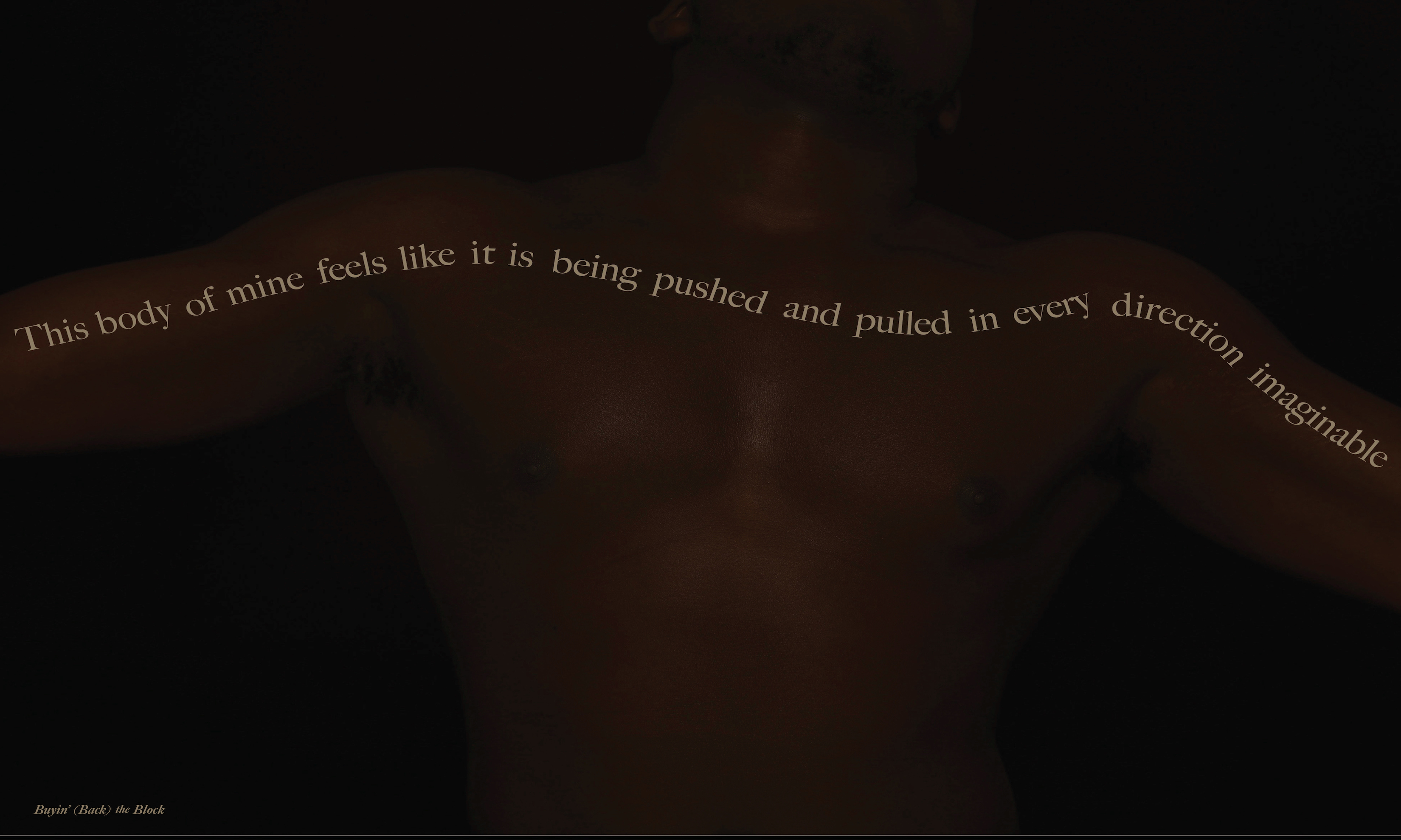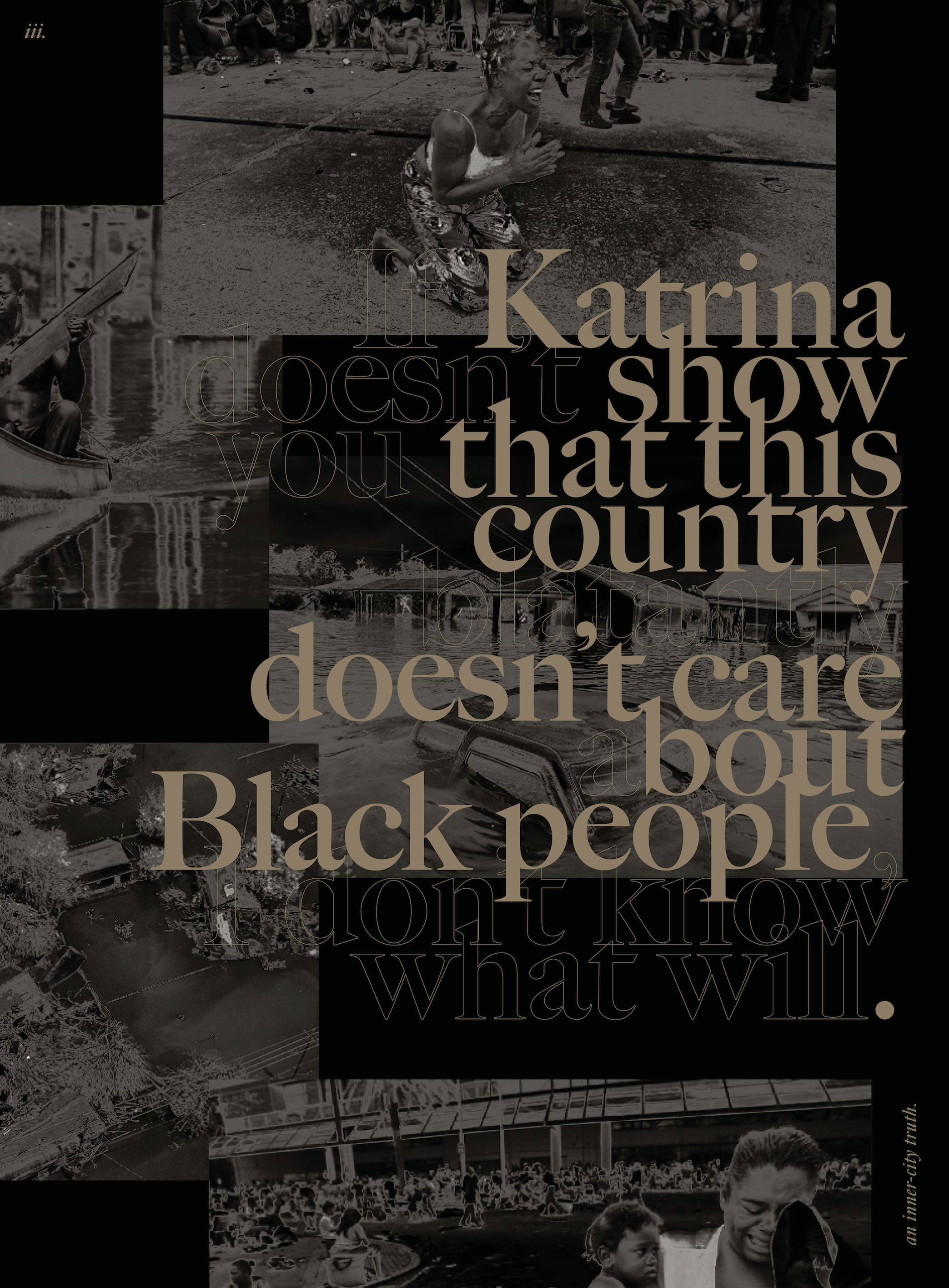 Buyin' (Back) the Block ✶ 2020

Buyin' (Back) the Block is a tale of discovery, contextualization, and above all else, reclamation. The project explores modes of existence that make being Black in America an unequivocally unique experience. This ever-expanding body of work is chronicled within three interrelated modalities: the physical, the economic, and the mental. The Physical is an examination of the imposed and self-imposed frameworks habitually placed on the Black body. The Economic looks at the dispossession of Black currency, regarding cultural artifacts and the literal dollar. The Mental highlights the ways our current state of being, as a collective, has the power to weigh heavily on the psyche of the individual. Through outlining these three distinct but tightly interwoven threads, Buyin' (Back) the Block sets out to reclaim what has been taken while underscoring triumphs that can never be seized.

This endeavor has always been much bigger than a thesis for me. I live these truths–– they amass my being. In conversation with those who look like me, I am here to celebrate a world of beauty, one that so happens to have an ugly backdrop. From uneven sidewalks that line these inner-city blocks to rarely re-painted schoolyards, there is undisputed worth present... Our spaces and our circumstances, albeit often not ideal, reflect our resilience, our ingenuity. By referencing the past and documenting the present, Buyin' (Back) the Block pushes to demythologize our shared future.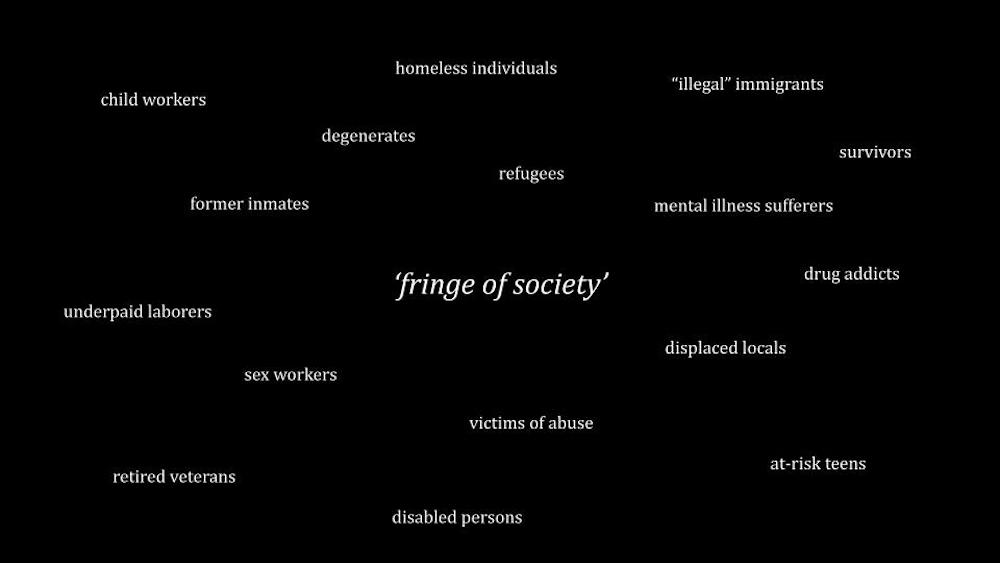 disRegarded is an initiative whose aim is to bring those on the 'fringe of society' back into the "societal fold"–– but the ultimate goal is to accomodate them in doing so on their own terms.

Feasibility was my biggest obstacle with this project. There are many groups of people in need, and each of them have specific desires/necessities, on both the collective and singular levels. With this undertaking, I quickly realized I had to get more precise with my approach. Currently, disRegarded looks to aid the homeless population of New York City in particular, with hopes to expand to other areas + groups in the not-so-distant future.

The project itself takes the form of an integrative mobile application that would assist homeless individuals in all five boroughs. I conducted about 17 hours of on-site research before even entering the development stage. While canvassing, I not only spoke to the members of my target audience but organizers, volunteers, and overcomers as well. After collecting information and hearing various impactful testimonies, I, then, injected several opportunities and resources into one comprehensive place that those suffering can turn to, whenever they so choose. I wanted for there to be a curated hub, one that these people can utilize to find anything from soup kitchens to résumé-building classes – all at their disposal.

---
Wailing Walls
✶
2019 —
2020
---
Wailing Walls
v.2 / FULLY REALIZED ✶
2021
Using the t-shirt as canvas, I wanted to speak to a reality that is incredibly insidious by nature (no matter how one looks at it). Wailing Walls is what resulted.


The front of the shirt features embroidered text that roughly reads "The Wall is no longer the one wailing. How quick they're to forget" in Hebrew, & under, a cupped hand catching a single teardrop is pictured. On the left sleeve, additional text pointedly reads "UNO_CUPY PALESTINE," utilizing the pre-existing stylized 'C' to complete the message. The back of the shirt features a silkscreened graphic depicting a Palestinian woman whose visible eye tells a story that's equal parts powerful and haunting. This printed image will crack over time— the poetics surrounding such an occurrence speak to all that the people of Palestine have endured.

35% of the profits will be donated to
Islamic Aid (Palestine appeal)
. The rest will go towards making more shirts. By the last round of shirts, my goal is to send 100% of the proceeds to Islamic Aid & other organizations dedicated to aiding all of those impacted.

Occupation is criminal, inhumane, and needs to come to an absolute end globally. FREE PALESTINE & the countless other occupied territories worldwide.


---

50% of the profits from round one of v.2 will be donated to Islamic Aid (Palestine appeal). The rest of the money garnered will go towards making the white t-shirts.



100% of the profits from round two of v.2— FULLY REALIZED, Wailing Wall's final installment— will be donated to the same organization linked above.

✦ Shop

here

During a design sprint, I was tasked with rebranding any restaurant that I had come across in recent memory.

At the time, I was a big fan of this unorthodox interview series called Hot Ones, the self-appointed "show with hot questions, and even hotter wings." Guests would go on and eat wings coated in niché hot sauces of varying scoville levels, while the show's host asked them a plethora of entertaining, sometimes even contentious quesitons. On a recent installment, the host let the cat out of the bag as to which restaurant supplied the webseries with its chicken, both standard meat and vegan. Product placement? I don't know, but after a quick search, I found My Belly's Playlist.

I was met by an establishment that had whacky meal combinations and colorful food photography but also lackluster branding. So, as a result, I chose MBP as the point of focus for the challenge.